Green Garden Gold CBD Oil Review: Another High Quality CBD Oil
Need An Emotional Support Pet Letter? Click here for a great affordable solution...
Our Green Garden Gold CBD Oil Review
For this Green Garden Gold CBD Oil Review I used this CBD Oil every night for several months in a row and most nights. I'd say 95% of the time. Green Garden Gold CBD Oil helped me greatly with my 3 main issues. These issues are insomnia, anxiety and panic attacks. CBD Oil can help many types of conditions:
35 Reported Health Benefits of CBD Oil
I generally took 1/2 of the dropper dose of the 2000 mg of Green Garden Gold CBD Oil Med Pac Bottle about an hour or two before going to bed. I sometimes woke up nervous in the middle of the night. And and if that be the case I take another dose. I consider it high quality. And it is one of my favorites and one I use often.
I find the 2000 mg bottles and the 1/2 dropper dose noted above generally works for me on a daily basis. So I tend to buy the med pac hemp oils. These are available in higher doses. But regarding the dose everyone is different. Some may need more and some less.
Green Garden Gold CBD Oil is available as capsules, hemp oils, salves, creams, serums, chill shots and gummies. There's even Doggy Be Good Hemp Oil Dog Treats. These days I find that Green Garden Gold CBD Oil is one of the CBD Oils I use the most.
So regarding this Green Garden Gold CBD Oil Review I highly recommend it. Click here for more info.
Below are some other options for High Quality CBD Oil. For example Elixinol below is another High Quality CBD Oil I use too…:
New!! Every Day Optimal CBD Products For Pets and People Too
Every Day Optimal Pet CBD Oil – High Quality CBD Products for Pets and People!
For pets there's the 125mg CBD Oil Tincture For Cats and Dogs I gave Sweetie my Chihuahua. It's safe, non-pyschoactive, non-GMO and natural. And the doses are based on your pet's size. The Pet CBD is beef flavored. You simply add the drops to their food. And it is from the US. Pet CBD can help more than just anxiety. It can help with pain, seizures and much more. I find Every Day Optimal Pet CBD to be high quality and highly recommend. Click here to learn more.
Every Day Optimal CBD for People
For people there's many options including tinctures, pills, gum, gummies and liquids. There's even CBD pills for several specific medical conditions including insomnia, anxiety and fibromyalgia. Like the Pet CBD these CBD options for people are safe, non-pyschoactive, non-GMO and natural. And all the CBD product options here are produced in the US. That's important these days for quality. Click here to learn more about Every Day Optimal CBD for People. While Sweetie tried Every Day Optimal Pet CBD for this Every Day Optimal Pet CBD review I also tried their CBD. Click here to find out how Every Day Optimal CBD capsules worked for me…
---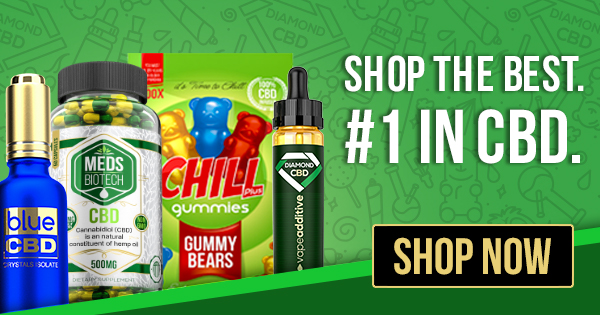 In The Spotlight: Help for Anxiety, Pain and More…High Quality CBD for People and Pets With Many Options
Some Great Affordable Options Especially If You Just Want To Try CBD!
What is unique about this company is that it makes CBD fun for both people and pets with its many flavors and options. They also offer some quite affordable options! For people…CBD is available in oils, vapes, edibles, drinks, dabs, creams… There's many size options including small quite affordable options so you can try it out and flavors including even cotton candy and bubble gum. They have 135 types of edibles and even a smokable form! Tommy Chong uses their CBD products! Regarding Pets…what is unique about these CBD for Pets products are the many options with flavors your pet would truly enjoy like bacon, chicken, cheese, beef, steak and more. They offer different products for your type of pet and size too. And they have CBD tinctures, bite, treats, biscuits, sprays… There's CBD that offers help for specific conditions and issues like even pet tartar control. So just click above or below to learn more about what they offer for CBD for People and Pets…
Shop now our premium brand
---
Also In The Spotlight: New High Quality CBD Including CBD Dog Treats With A 5 Star Rating!
Regarding people, this CBD Oil is high quality and also available as capsules, sprays and vape oil. There's even CBD for specific conditions and issues including sleep, anxiety, weight loss, pain, anti-aging and more. And there's CBD Dog Treats for dogs too! Just click below to find out about these New High Quality CBD options including High Quality CBD Dog Treats and best of all, there's a sale going on right now so you can try it and save money. The sale is for both the CBD for people and for CBD Dog Treats so just click below to find out more info:
Elixinol CBD Oil Review: A High Quality CBD Oil
Our Featured CBD Hemp Oil Review is about Elixinol CBD Oil. CBD Oils vary in quality and Elixinol CBD Hemp Oil is definitely high quality and one of my favorites. I found their product definitely helped me when facing anxiety and panic attacks. It also calmed me down enough at night to sleep when anxious.
They offer CBD Hemp Oil in many forms including capsules, hemp oils including those that dissolve in water, CBD Oil liposomes, oral applicators, tinctures, hemp protein powder, hemp seeds, and CBD topical balms. Now they even have CBD Pet Treats for your dog and cat:
These CBD Pet Products come in a variety of flavors. Likewise you can find the people version of CBD Hemp Oil Tinctures in Cinnamint and Regular and other CBD Hemp Oil products in such flavors are citrus. To learn more please click on the link below:
HoneyColony offers many forms of High Quality CBD Oil for specific uses like antibiotics, superfoods, supplements, beauty, digestion and much more. So just click below for more info…:
CBDPure: Another Great High Quality CBD Product
CBDPure is still another Great High Quality CBD Oil I've used in the past that I would highly recommend. Just click on the link to learn more…
---
Disclosure: I created this web site and my related health sister web sites to help people so they get informed and don't have my bad experiences due to not finding the right answers soon enough. As I had a background in Marketing professionally I later became interested in Affiliate Marketing. So this page includes some affiliate partner links which basically means if you do click a small commission may be earned where you would not pay extra and some of this money earned would be applied to keeping our web site(s) updated and maintained for all viewers. We do promote certain products and services at this site that we believe are great (we either use them or would use them). You can read our full Affiliate Disclosure, Disclaimer & Privacy Policy here
Disclosure: C. A. Saucier is a participant in the Amazon Services LLC Associates Program, an affiliate advertising program designed to provide a means for sites to earn advertising fees by advertising and linking to amazon.com.
Zatural Hemp Oil Review – A High Quality Hemp Oil
This is a Very Impressive Hemp Oil That Is A Step Above The Rest
I've used both CBD oil and hemp in the past and was using CBD Oil for the most part as CBD Oil was more powerful and that's what I need to get a good night's sleep and deal with anxiety. I saved the hemp I had on hand for times of lighter anxiety. I came across Zatural Hemp Oil when looking for something else. I read the reviews and decided to try a small bottle since I need a 1000mg dose of CBD Oil to get to sleep and high quality CBD is not exactly low cost. I tried it out for a few days initially at the recommended 1 tbsp dose and was very impressed which how relaxed I felt in the evening and that I slept well too. I went back to the CBD oil for a few days and tested Zatural Hemp Oil it again. And now what I do is alternate nights for taking Zatural Hemp Oil and my CBD Oil and quite pleased. I just purchased the 32 oz bottle of Zatural Hemp Oil as I plan to keep alternating between the two. To read the Amazon reviews just click on the link for it and to find out more about it. I highly recommend Zatural Hemp Oil!